Set on 230 hectares, Verdura Resort is a place with a true sense of space. It's a place where your room will seem woven subtly into the landscape, with uninterrupted views of the sea from your private balcony or terrace. There are three championship golf courses, a 60-metre infinity pool, six clay tennis courts, a 4,000 m2 spa, four restaurants, five bars and much more.
Located on the south-west coast of Sicily, next to the seaside town of Sciacca, the resort is perfectly positioned for exploring the island. The capital, Palermo, is just over an hour's drive, and the Valley of the Temples in Agrigento and the Temple of Selinunte are both just a 40-minute drive away.
Space, luxury, and privacy are the hallmarks of the Verdura Resort, offering an unparalleled style and sophistication for well-travelled clientele seeking a quiet or active getaway, romance or spending time with family.
The resort offers 203 luxurious and stylish rooms and suites, all with private terraces, stunning sea views and beautiful interiors that combine modern luxury with authentic Sicilian motifs. In 2017, Verdura Resort launched the new Villas, perfect for family stays in the Sicilian resort. The three Villas differ slightly in size and they all offer large sitting rooms and dining areas with kitchenettes. Guests will receive an introduction to Sicily and exclusive assistance during the stay by U Canuscituri, the resort's local Insider, who will be able to unveil all the secrets of local life.
Golf
An official European Tour Destination, Verdura is home to the 2017 Rocco Forte Open and, with three world-class golf courses, offers the perfect location for an exclusive golf break all-year-round.
The three links-style golf courses, all designed by Kyle Phillips, use the natural, green contours of the landscape and are planted with indigenous trees and shrubs. Warmed by the Mediterranean sun and refreshed by the sea breeze, the courses are free from any buildings, offering uninterrupted views of the azure waters from the undulating greens.
You'll find the facilities world-class too, with a double-ended driving range, tuition from PGA-qualified professionals and exceptional golf academy for budding young golfers
SPA
Set amid olive groves, oranges and lemon trees, Verdura Spa is one of Europe's most advanced luxury wellbeing centres, with a distinctive Sicilian flair.
Housed in pavilions grouped around an open-air courtyard, the 4,000 square metre spa has 11 extensive treatment rooms including double treatment suites, a 20-metre indoor swimming pool, a double-height steam room, Finnish and infrared saunas, a 170 square metre state-of-the-art gym, a fitness studio, spacious relaxation areas and a hair and beauty salon. There are also four outdoor thalassotherapy pools, heated at different temperatures, each with varying salt densities, minerals, and organisms.
Verdura SPA offers also five health-focused programmes: Fit, Slim, Detox, Anti-age, and Relax. Each programme integrates all of Sebastian Kneipp's five pillars: water, plants, exercise, nutrition, and balance.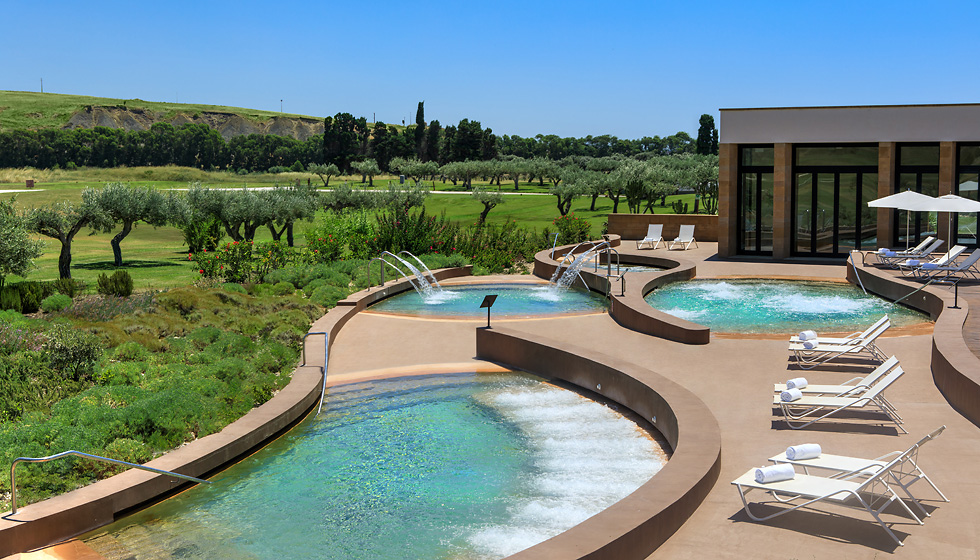 Gastronomy
Dining is also an unforgettable experience at Verdura Resort that offers 4 elegant restaurants and bars, each with a different ambience and experience. The cuisine of the resort's restaurants is strongly connected to the authenticity of the island. The recipes highlight the flavours of the Mediterranean diet using simple and traditional Sicilian produces. Not only tradition but also innovation: Verdura Resort has extended its gastronomy offer through a unique partnership with Pietro Leemann, an internationally well-known Michelin-starred Chef with his own natural and vegetarian haute cuisine proposal. Chef Leemann puts his signature only for Verdura on special menus available into all bars and restaurants.
Kids' Club
Verdura has been carefully designed as a family-friendly resort, thanks to the special Families RForte programme and its services. Children aged 0-12 can enjoy Verdùland, a club named after our hedgehog mascot Verdù. Over 450m2 with indoor and outdoor playground and a dedicated heated swimming pool. The service, available daily from April to October, includes educational programmes and leisure activities, offering youngest guests to learn cooking, creating and playing, with a specialised and multilingual Team.
Activities
The Resort is the perfect place to experience the favourite leisure activity or learn a new one, with friends or in family. You can start exploring the stunning Sicilian landscape by bicycle or walking, thanks to the cycling and trekking routes; improve your skills at the tennis, swimming and football academies; cool off in the sea with one of the many water sports; play volleyball by the beach. And for all gourmet lovers, Verdura has a wide range of culinary experiences, such as learning to cook authentic Sicilian cuisine or tasting local wines.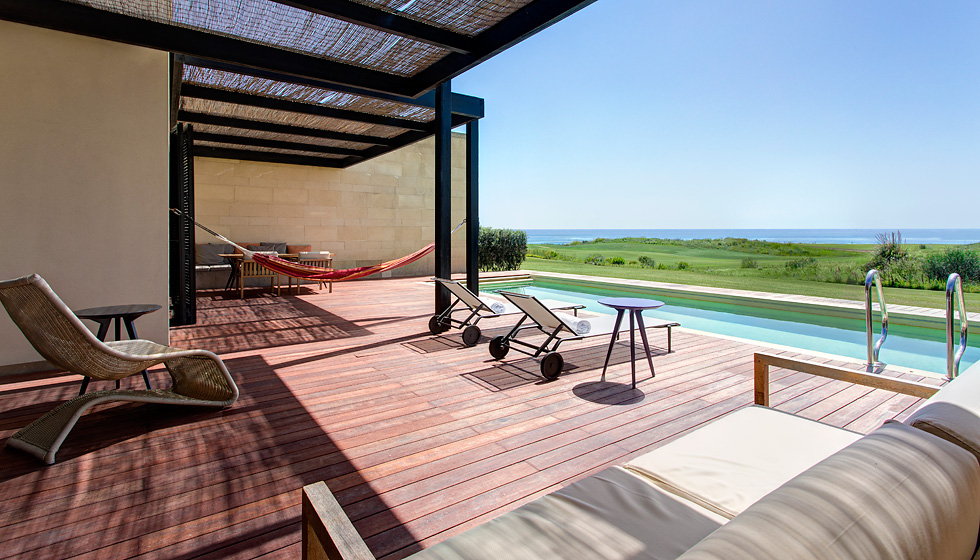 Company
Verdura resort is a Rocco Forte Hotels, Company established in 1996 by renowned hotelier Sir Rocco Forte and sister, Olga Polizzi to create a group of luxury hotels in exceptional locations around the world. Eighteen years on, the group comprises of eleven multi-award winning properties. Sir Rocco Forte is Chairman and Chief Executive, Olga Polizzi is Deputy Chairman and Director of Design.
Each hotel is individual with its own name and distinct personality that reflects the location in which it is found. The magnificent buildings are all landmarks within the city, both old and new, and are known as the historic monuments and attractions that surround them.